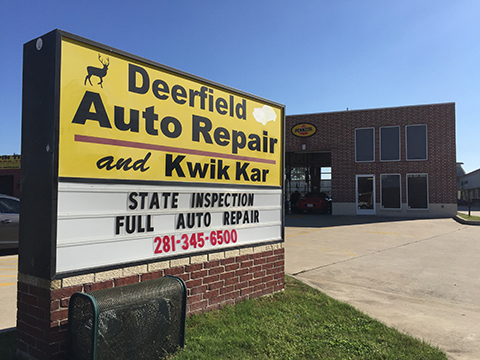 Deerfield Auto Repair and Kwik Kar is conveniently located at 3980 Barker Cypress Rd near Clay Road in the Katy/West Houston area. We are a family owned and operated business that has been serving this growing area since 2003.
We offer a Quick Oil Change Service in addition to our Deerfield Village synthetic oil changes that will have you on your way in just a few minutes, and we are an Official Texas State Vehicle Inspection Station. We are also a Complete Automotive Repair Facility for both foreign and domestic vehicles – where most repairs can be completed in one day. We are truly your "One Stop Shop".
We have a state-of-the-art computer software system that keeps your vehicle maintenance and repair history readily available. Imagine the advantages of knowing exactly when services were performed on your car, or when your last Deerfield Village synthetic oil change occurred without the hassle of searching through receipts in your glove compartment or in the drawer at home. Also, consider the monetary benefits of having all of your records organized when you sell or trade-in your car. We honor most Extended Warranty contracts and Fleet Cards.
Need a rental car or a tow truck? No problem, Rental Car Service is provided by nearby Enterprise rent-a-car. You can receive special pricing and have your rental car delivered right to our front door so you can be on your way. We also have tow service and a night key drop for your convenience.
What about Fleet Services? We accept PHH Fleet, Voyager, GE Fleet and other National Fleet Accounts. We also provide billing for local Commercial Accounts. Contact us with any questions regarding Fleet Services or our Deerfield Village synthetic oil changes.
Deerfield Village Auto Repair and Kwik Kar, has you covered on your next car inspection. We proudly serve communities across Deerfield Village, Bear Creek, and Langham Creek.
Friendly Staff
Fair Pricing
Fast Service
Quality Care